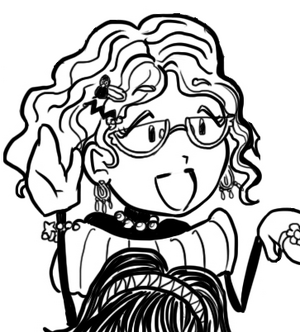 Marcy Simms is a character who was introduced in Dork Diaries 5, Tales From a Not-So-Smart Miss Know-It-All. She is a new student a Westchester Country Day who has just transfered from Boise, Idaho. At first, she struggles to make new friends and misses her old school back at home, but she later on befriends Nikki, Chloe, Zoey, and Brandon after she helps shut down MacKenzie's plan to get Nikki, Chloe, and Zoe suspended for The Great Toilet Paper Caper. Also Mackenzie is very mean to her she always makes fun of the ways she dresses.
Description
Marcy has short blonde orange brown hair like cats and blue eyes very similiar to Nikki's. she also has braces.
In Tales From a Not-So-Smart Miss Know-It-All, her name is spelled Marcy, but in Tales From a Not-So-Happy Heartbreaker, it's spelled Marcie.
She is the assistant fashion writer for the school newspaper, which means she has to work with Mackenzie! =(
She wrote a letter to Miss Know It All with the pen name Missing Idaho.
Which means she's probably from Idaho. she also helped in many things with Nikki by helping Nikki not get caught or expelled.
Mackenzie makes fun of the ways she dresses.
She has a crush on Tyler.
She seems to be very sensitive because when Mr Zimmerman yelled at her she started to cry.